We do scheduled hikes every Saturday and Sunday with additional week day bookings if we get enough interest. Longer hikes usually include a stop for lunch so bring along a snack! We cater to all ages and abilities. Private hikes can be scheduled most days of the week, just get in touch and we'll work something out.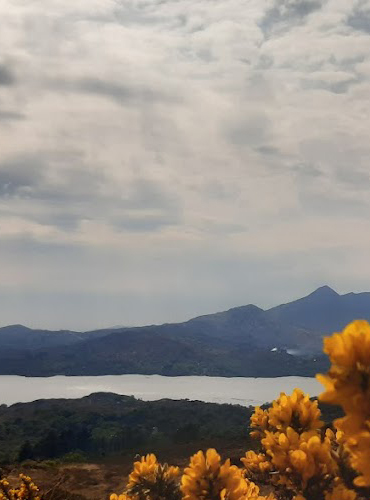 Experience the tranquility of Cab Dubh with our leisurely two-hour stroll (give or take). Meandering through picturesque landscapes, this enchanting hike offers a gentle ascent, stunning panoramas, and a chance to immerse yourself in the natural beauty of Glengarriff. Perfect for all ages and fitness levels. Even great for those who indulged in one too many pints in the village the night before.
Panoramas of the Cahas, the McGillycuddys, the Shehys, Glengarriff Harbour and Bantry Bay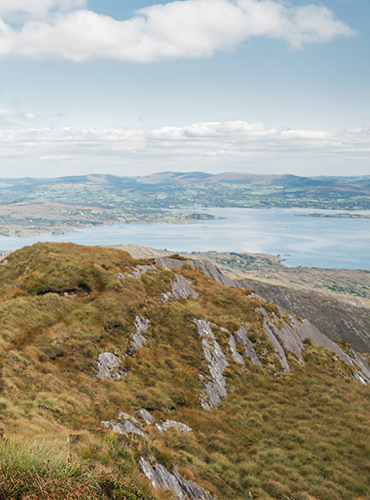 Lace up your boots and let the panoramic views leave you in awe. Over the course of about 5 hours, you'll challenge yourself with this rewarding ascent. This intermediate hike generally takes us up Sugarloaf Mountain, which can be seen from all around the area. You'll love knowing you've made it to the top! Majestic views of the gorgeous Beara Peninsula, Hungry Hill, sparkling Bantry Bay, and the stunning landscapes of Kerry. 
This approximately 6-hour expedition takes you on a breathtaking ridge walk along the Cork/Kerry border through Caha Pass. With sweeping views over the rugged Sheep's Head and Mizen Peninsulas to the shimmering Kenmare and Bantry Bays, you'll be able to witness the beauty of two worlds converging in one magnificent vista. This exhilarating hike ends with a rewarding swim at Barley Lake.
Experience the freedom of a custom hike tailored to your preferences and abilities. Whether you're seeking a challenge or something more low-key, we can curate a personalized adventure just for you. Immerse yourself in the stunning sights of Beara, Hungry Hill, Bantry Bay, Kerry, Sheep's Head, Mizen, Kenmare Bay, and more. With our custom hikes the possibilities are endless.
Let us create an unforgettable journey that matches your perfect day out, ensuring an enjoyable exploration of the remarkable landscapes of West Cork.
*Times are estimates. Hikes can sometimes go a longer than expected as we make sure everyone is safe and comfortable with our pace.*
Your local guide Adam fosters a friendly, upbeat, and supportive environment. Onwards & Upwards is dedicated to ensuring your comfort, safety, and enjoyment throughout the entire hiking adventure.
We create unforgettable memories. Whether it's witnessing stunning views, learning about local culture and myths, or connecting with fellow hikers, we strive to make your time with West Cork Hikes truly special.
We had a retirement group climb with Adam earlier this year and it was a really enjoyable day. Adam looked after all of us really well, made sure no one got left behind and is very knowledgeable about the area. It's great to be picked up in Glengarriff and dropped off and then collected after - great service! I really recommend Adam 👍
Adam is such a great guide. He is super chilled, and filled us in with lots of interesting facts about the area. He is full of local knowledge, and facilitated a group of strangers to feel very at ease with each other and relax, enjoying the amazing scenery. I really enjoyed the group element of the hike! Very nice thing to do, on a Sunday morning and a good sense of achievement on the ground after. Thank you Adam!
Dolores Cummins
2022-07-25
Wonderful hike to the sugar Loaf in West Cork. Adam was our guide for the day. He is both knowledgeable and informative. As a local he knows his way through these magical pathways along the Beara. Thank you for an amazing experience. I'll be back 😃 Dolores
Molly Sharkey Carnahan
2022-07-21
We hired Adam to guide our family on a private hike. It was fabulous. Adam organized all the details. He made it so easy for us, as we were visiting from out of the area. We had a lovely day. Lots of memories! Highly recommend Adam.
Adam was a fantastic hike leader to the top of Sugarloaf Mt! He was knowledgeable, kind and patient with our family group of 9 people. This hike has some strenuous parts and you are well rewarded with beautiful views at the peak! I highly recommend Adam and this hike!
Lynn Townsend-White
2022-07-21
We had a great hike with Adam to the top of Sugar Loaf outside of Glengarriff Ireland. For us, it was quite a challenging hike, but there were enough spaced out breaks to enjoy the scenery and take a breather. Lunch on top was beautiful. Adam was great with the group making sure everyone had what they needed and were enjoying themselves. Would definitely recommend Adam.
Adam was incredible! He took us on a hike up Sugarloaf mountain, including a portion that was off-trail that we would have never been able to find without an experienced guide! The views were absolutely incredible and Adam was so knowledgeable about the history of the area and the trail itself. Would highly recommend joining him for the Sugarloaf hike or any others!
Hiking is one of the most beautiful ways to explore Westcork. With enthusiasm and passion, Adam guided us safely to the top of Sugarloaf. Sharing his knowledge about the land and myths made the trip even more exciting. He made sure that everyone felt comfortable walking in their own pace and still kept the group together. I'm looking forward to my next adventure with "Onwards and Upwards" and highly recommend a hike with Adam. 🙂